Bonding by DATA MODUL
Benefit from our many years of experience in the field of bonding. We have the latest OCA, LOCA, air, gel and hybrid bonding processes in-house and can therefore offer customised touch display solutions directly from a single source. We can select the most suitable bonding method based on your requirements, as well as design and environmental conditions, and provide you with professional advice. For our bonding solutions, we only use high-quality and qualified materials as well as state-of-the-art production methods. Thanks to our clean room, production and development capacities of several thousand square metres, we are one of the largest and most versatile bonding suppliers for the European and international industrial display market.
We are the bonding experts!
Optical bonding versus air bonding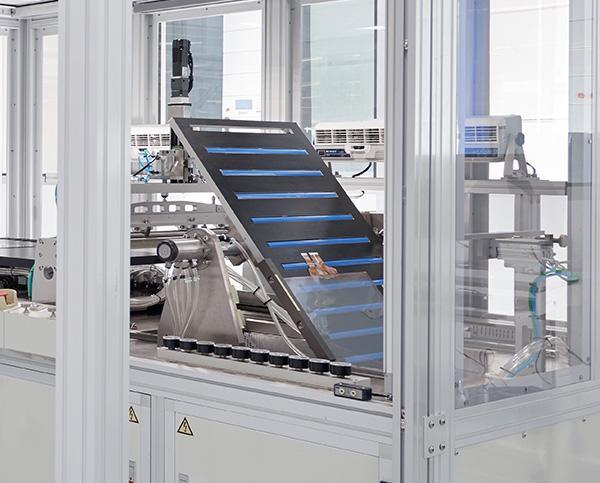 Optical Bonding
Optical bonding allows the combination of touch sensor, cover glass and display into one unit by means of different bonding technologies. In addition to the classic bonding methods such as OCA (optical clear adhesive) and LOCA (liquid optical clear adhesive), we also offer hybrid bonding as one of the most modern bonding technologies.  LOCA bonding is suitable for cover glass, SITO Touch or display connections (hard-to-hard) and is cured under UV light. So-called film bonding or OCA roll lamination is used to apply the film touch sensor to the cover glass (hard-to-soft). Hybrid bonding is a further developed mixture of LOCA and OCA processes and is particularly suitable for high-volume projects.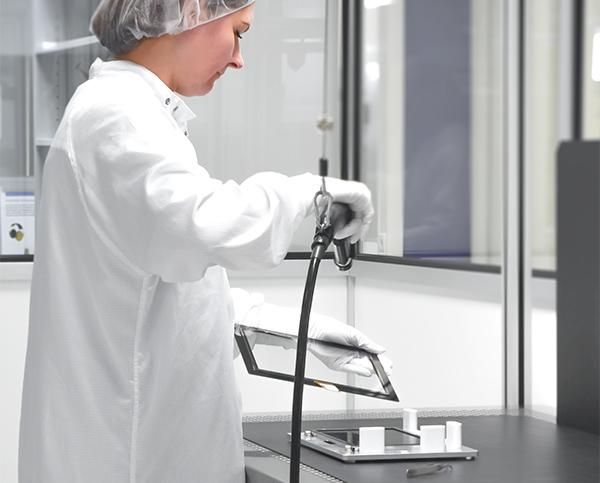 Air bonding
With air bonding, we can offer a simple and cost-effective variant for combining displays with cover glasses or touch sensors. In comparison to full-surface liquid adhesive bonding (LOCA), air (gap) bonding is a method in which a double-sided adhesive tape is applied all around the TFT frame to bond the TFT and touch glasses together.  This cost-optimised process is particularly suitable for indoor applications.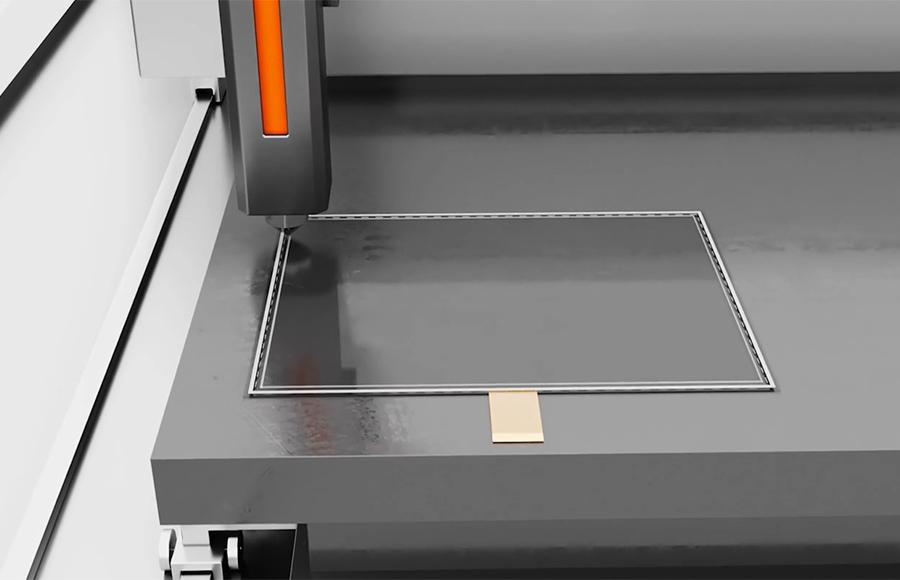 In the LOCA process, liquid adhesive is dispensed onto the cover glass and then the touch/TFT panel is applied. The adhesive then spreads evenly and bubble-free between the components. The adhesive is then cured by UV light without generating much heat. This prevents the material from being stressed by heat or mechanical impact. The LOCA process is one of the most common and established technologies. It is particularly suitable for bonding hard materials such as glass, plastic and TFT panels.
Hard-to-Hard method
Flip method (face-down method)
Liquid adhesive
Curing by UV light
applicable for cover glass, SITO sensors and display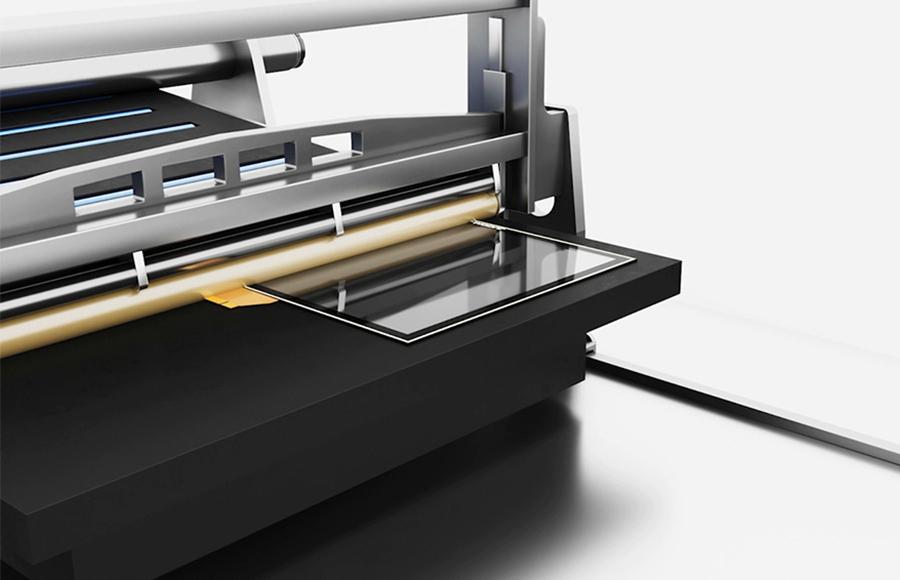 The OCA process uses an adhesive layer on a touch film carrier to bond the touch sensor to the cover glass using a roll lamination system. Finally, inclusions such as air bubbles are removed with the help of an autoclave. This process can also be used to apply EMC or UV filters and protective films directly to the cover glass or sensor.
Soft-to-Hard process
Freeform / curved in planning
Force-sensitive OCA adhesive
curing by autoclave finish process
applicable for foil sensors on the cover glass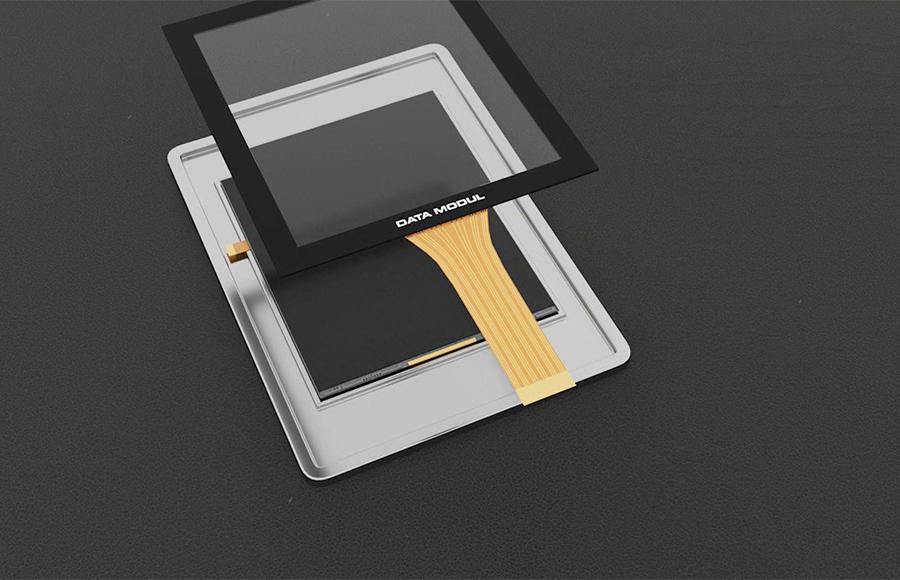 With gel bonding, the display and touch unit are bonded by using a gel pad. The width, height and thickness of the pads are cut to fit the size and design of the display. The pad is then applied to the touch unit by roll lamination and bonded to a frameless display. The touch display unit is then assembled in an artificially created vacuum. This process is particularly suitable for bonding displays with thin or no frames.
Hard-to-Hard process
Gel pads
curing by autoclave process
applicable for frameless displays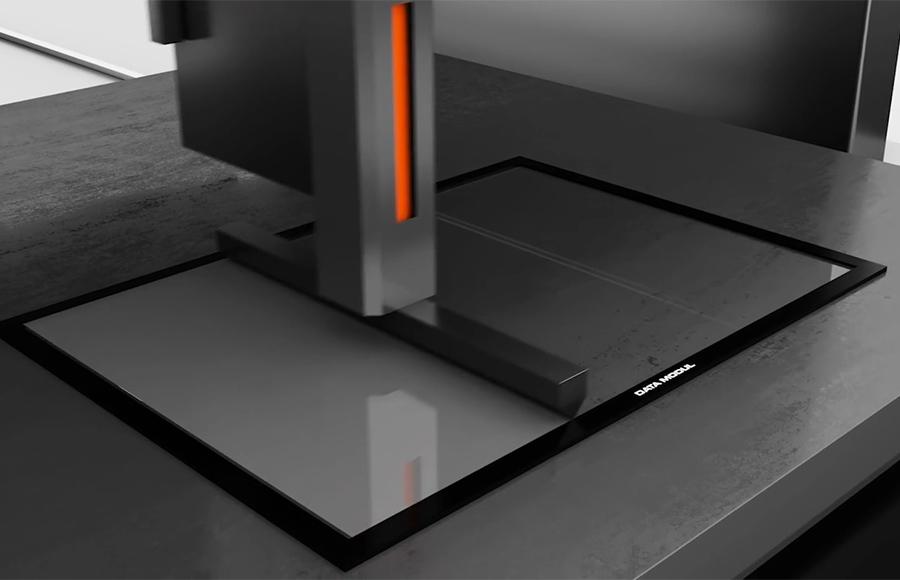 Hybrid Bonding combines the advantages of the LOCA and OCA processes and is suitable for bonding touch sensors to glass as well as for bonding glass or touch sensors to displays. First, a liquid adhesive is applied to the surface to be bonded in the exact amount required. Next, the adhesive is pre-cured by using UV light. Then the components are positioned precisely and bonded together in a vacuum. Finally, the adhesive layer is completely cured with UV light. We have implemented this technology in a fully automated process with high productivity and can thus efficiently produce touch glass display solutions with high volume requirements.
Hard-to-Hard process
Slit-Coating process
Liquid adhesive
Curing by UV light and vacuum
applicable for cover glass, SITO sensors and display for high volume projects
Pick & Place / Gap filling
The bonding of housing parts and touch units is automated and processed under clean room conditions. Thanks to the perfectly coordinated pick & place and gap filling processes, we not only guarantee the highest quality standards for our touch devices, but also meet all common industry hygiene standards.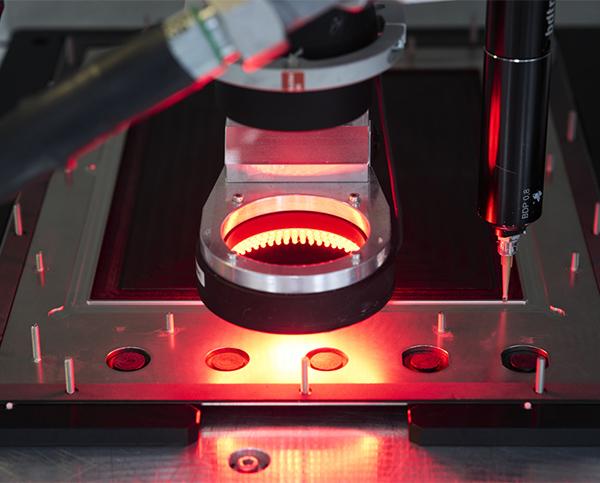 Pick & Place and gap filling procedure
When bonding the glass and housing parts, the components are first measured by a computer to determine the optimum positioning. The frame is then coated with an adhesive and the glass is automatically joined to the housing part. During the Pick & Place procedure, a process-related gap is created between the housing and the glass. This is closed in the subsequent gap filling process by filling an automatically dosed adhesive precisely and evenly into the gap. This prevents the possible intrusion of contaminations such as bacteria or dirt.
Advantages of optical bonding
Excellent readability
By applying a layer of adhesive between the display and the cover glass, the air-filled gap is closed. This not only joins the components firmly together, it also changes the light reflection behaviour. Optical bonding allows more light to be transmitted without loss, which significantly improves the display's image and readability. Even in particularly bright ambient light or in direct sunlight, content can be displayed perfectly and with high contrast.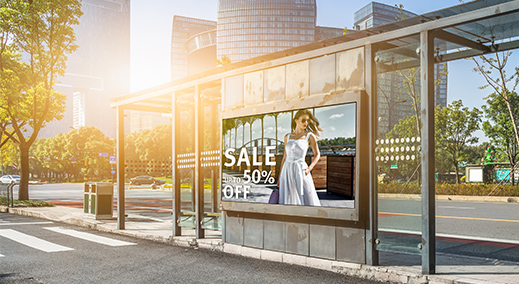 Robustness
With the help of our optical bonding processes, we can increase the robustness of our displays to such an extent that they can be operated precisely and without errors even under challenging environmental conditions. The fixed connection of the display to the touch unit reduces the sensitivity to mechanical impact and also prevents the penetration of impurities. Extreme temperatures, humidity and liquids, dust, vibrations or possible violence can thus be countered in the best possible way.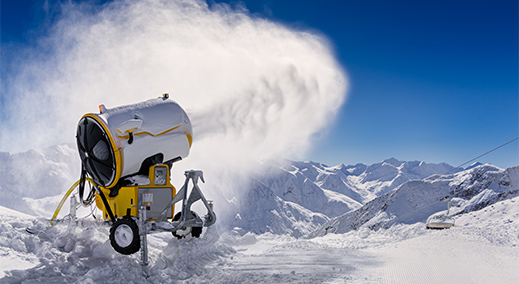 Prevent condensation
Clouding or fogging of a display is often due to humidity intrusion when operating in highly varying temperature ranges. Optical bonding fills the gap between the display and the touch unit with the adhesive. This prevents (air) humidity from entering the space between the glass and the display and condensing on the surface.